Gosh I have been busy! First off sorry to Becky and Zoe who I didn't get round to seeing even though I promised I would. I'll try to explain!
Friday and work was tedious. Got out early and caught the train to Westenhanger. Mum picked me up from the station, I dumped my stuff, washed and dressed and headed off to the Burlington Hotel for the water boards Christmas do. My date for the evening was the lovely Stacey Lady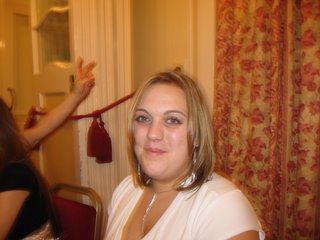 Had fun, seeing a few of the old faces, and discovering that nothing has changed at my old job. I felt like I hadn't been away... there was...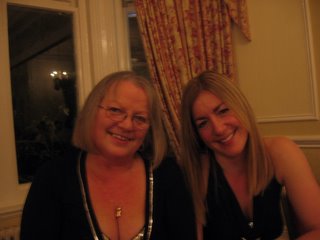 Angela and Karen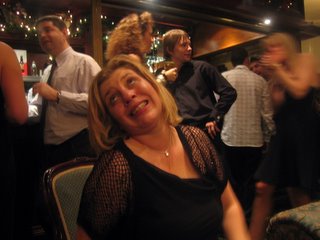 Sarah - as you can see she was rather sober
James, Carolyn and Katy
One of my work colleagues confided to me her worries about her son who has come out to her.
Which explains who Kate was talking about
. He's only 16 bless, although he's appeared in Finding Neverland amoung other things. Bastard. ;o)Oh the circles I mix in. I was supposed to go stay with Henry and Sarah, but you can see the state she was in! I decided to go home instead. Snuck in the backdoor and slept on the sofa.
Was woken by Mum, had breakfast with the family...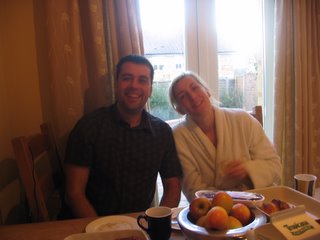 Then went shopping with Mum and Beth for the last few presents. Wasn't too bad. Had one of those moments where I realised why I love my Mum so much. As we walked past a Big Issue seller we both stopped to buy one. The Big Issue seller screams "Ally". My mum and Jess (Big Issue!) hug and chat about the good old times when Jess was in one of Mums projects and they kiss goodbye. Not many people have a Mum who not only knows, but cares about, the homeless kids of Folkestone. She spent the rest of the weekend worrying about Jess.
Got back to Lympne, made Beth wrap the presents for me...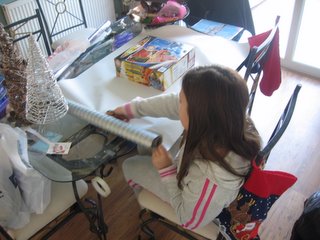 Then we picked up Jim from the station and drank ourselves slilly for the rest of the evening.
Slept on the most uncomfortable bed ever that night... it was on a 45 degree gradient... ewww...
Christmas morning! I got loads of pressies and was pleased with the response the ones I gave got. The rest of the family turned up for dinner...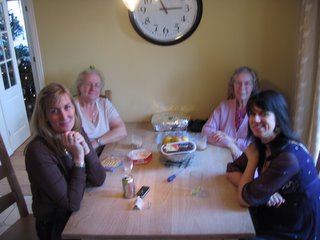 And then the most exciting moment of the holidays arrived... the Doctor Who Christmas Special!!!!! YAY!!!!!!!!!
Boxing Day... it all started off normal enough. I was to go into town, meet Becky and then move on from there to Zoe's house warming. But first my phone died, and while I tried to get my sim to work in other peopels phones I went up the pub. 5 and half hours later my Uncle David, Jim and I were found rather worse for wear debating Britishness. Hmm... and that's why I never made it out. I was too pissed!
And then it started to snow. And snow. And snow.
This morning I woke to find a winter wonderland outside...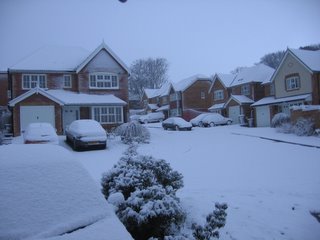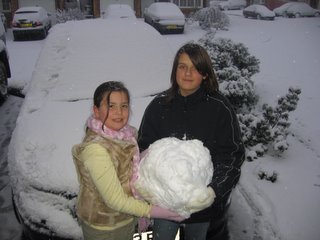 But no trains. :o( I thought we would be stranded in Lympne but after a couple of hours the folks got bored of us and drove us home...
And as we drove up the Old Kent Road I realised... London is home for me now. I felt so much better when we crossed through into Greenwich Borough... mmm...
And now the kids are here... joy!
Hope you all had a fab xmas!