The presenters arrive... Oh my god... it's Will and Grace!! And you thought Eurovision couldn't get any gayer!

The contest in brief... The points are my own over generous scores...


Switzerland - Pure pop trash. I loved it... aspirational, full of hope in the future. Sung fairly well... 8 points
Moldova - I could sing this song better... crap. One of the singers is almost cute 4 points
Israel - Mum used to rate them nil point with the remark "stop killing Palestinians". Now although I may not agree with the principle, I have to say this song didn't light any fire within me. Very American... 6 points
Latvia - Erm... 12 points for effort??
Norway - Lovely... although I hadn't realised human cloning was now legal? :p 8 points
Spain - The "We couldn't be bothered song..." DULL. 1 point Terry Quote "Spain lost the plot years ago"
Malta - deserved to do better - 6 points
Germany - Should have won... love it! 12 points
Denmark - Cloning again??? Whats happening in Scandinavia? Fun. 8 points
Russia - Can I marry Dima? He is very nice... I wasn't listening to the song other than the "flesh on my flesh, bone on my bone" part so... 12 points!
Macedonia (I hate the FYR part... let them be their own country!) - ok 6 points
Romania - ish 6 points
Terry Quote "No sign of a drink yet?.. no..."
Bosnia & Herzegovina - ok 6 points
Lithuania - TQ - "keep an eye out for a bald maniac who may be harry hills brother" I love Terry... this song is so crap (and quite mad) it's almost good. Almost... nil point.
The United Kingdom - CRAP. Come on... I've said it since he won Making Your Mind Up. Sorry dear Daz your heart was in the right place. But rap is soooo last century... 12 points for effort but I'm not feeling very patriotic this last week so... 2 points.
Greece - cool 8 points
Finland - The mighty Lordi. Refreshing... The Arockalypse of Eurovision's perceived pop obsession. Loved it... 12 points
Ukraine - It's Shakira! Oh wait... 8 points
France - And normally I like the French ones... 4 points
Croatia - TQ - "It's obviously much more fun to sing than to listen to". I agree. 4 points
Ireland - Yawn... 2 points
Sweden - Nothing special 4 points
Turkey - Love it... 10 points.
Armenia - Ok 6 points

The BBC's take on the night. Well done Lordi!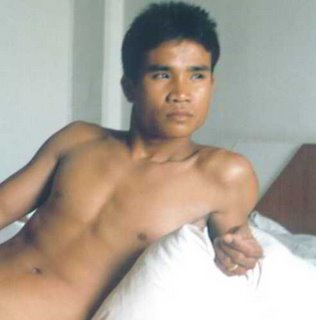 Thai guys are so hot.
Lordi, Eurovision, gay