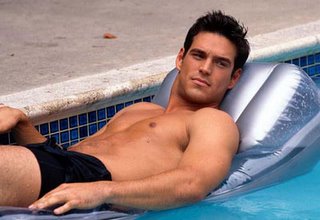 So I sat watching episode two of
Invasion
last night and pondered where I had seen the lead Eddie Cibrian before. I pondered for at least two seconds before I went on to
IMDB
... he was in
But I'm A Cheerleader
playing the awesome looking Rock... mmmm.... I love the satisfaction IMDB can bring to you.
Invasion is ok so far, but
Surface
is my new love after Lost. Come on how could I not love it? I spend half my internet surfing life reading up on cryptozoology... this series ticks all the boxes for me. Strong "takes no BS" female lead, cutesy teenage boy subplot with just as cutesy Nimrod, all American male lead, crazy scientists, army conspiracy, and 200 foot sea monsters who can kill in oh so many exciting ways. Sure it's done on the cheap, but I'm a Doctor Who fan... I can live with this!!!
What is it with all these one word titles Lost, Surface, Invasion? I actually quite like it.
Stardust
. Stories like this restore my faith in humanity... when we put our minds to it we can do some pretty impressive things, beat that dolphins! :op