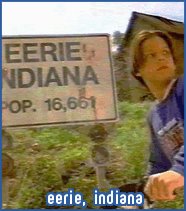 My Complete Series of Eerie Indiana arrived today (the postman waking the downstairs people.. oops!)!!! Yay!!
When I was younger this was one of my fave shows, I had such a huge crush on Marshall (Omri Katz) when I was younger (yes I was younger than him then so no it wasn't some paedophilic fantasy!) Love this show...
Ok... so no one spotted what was wrong with the photo a couple of posts back?? I am disgusted... it was so obvious. He's wearing a blazer AND jeans!!!! SOOOOOOOOO wrong.
Jim gets home tomorrow... I can't wait to see him.
Got my haircut today... hmm... soooo much easier doing it after work... I was the only person there.